TRANSPORTING A CHRISTMAS TREE
Posted on: Nov. 30, 2017 in Safety

If you celebrate Christmas, you're probably thinking about decorating the house for the holiday. For those who prefer a real Christmas tree, it's time to get out and select one. Whether you pick a pre-cut from a lot or chop down your own, you still need to get it home.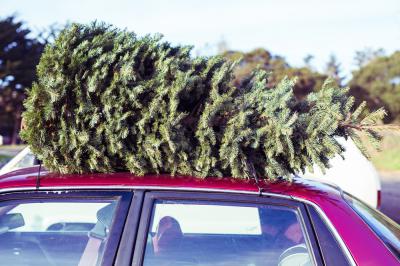 Before You Go
Measure. Knowing how big of a tree you can transport is essential. You don't want to find the find the perfect one, only to realize it doesn't fit on top.
Gather. Some tree-sellers will provide materials to secure the tree to your car, but some don't. If you're not sure, it's best to round up some supplies before you go. Bring a blanket or tarp to protect the roof of your vehicle from scratches, as well as materials to tie it to the car. Also consider that you may have to wrap your own tree before transporting it.
While You're There
Wrapping isn't just for presents! If there's netting around the tree, keep it on to transport it home. Many tree farms will wrap a tree for you after you've cut it down, but if they don't, now is the time. Having the branches bundled and secured will make it easier to carry and secure to the car.
Be sure to position your tree correctly on the car. It should be centered with the stump facing toward the front of the vehicle. This cuts down on wind resistance and keeps the tree more stable. If you have a roof rack, fasten the tree to that working from tip to stump. If you must tie the tree directly to the roof, use extra care as this is less secure. Don't forget to open the car doors before you tie it down and never thread rope through the windows. Give the tree a few good tugs before setting out on the road again.
You also may not want to rely on the tree farm to do tie down your tree for you – in fact, it's probably best that they don't since an error on their part can lead to an insurance nightmare.
As You Head Home
Drive slowly and carefully as you make your way back home with your tree. If something feels off, pull over and check that the tree is secure. Losing your tree on the road is not only bad for the tree, but you could cause an accident or severely injure passengers in the car behind you.
Keep the holidays bright by transporting your tree safely!
If you're ready for a new car but your credit is keeping you from getting approved, CreditYes can help with our bad credit auto loan program! We can match you with a dealership in your area that will be with you every step of the way. Our service is fast and free. Fill out our secure online application and get behind the wheel of your next car today!