ONLY HALF OF RECALLED AIRBAGS HAVE BEEN REPLACED
Posted on: Dec. 15, 2017 in Safety

Amazingly, Takata airbags are still in the news and it's still not good. A recent report from the National Highway Traffic Safety Administration says that fewer than half of the recalled airbags have been replaced as of the end of October.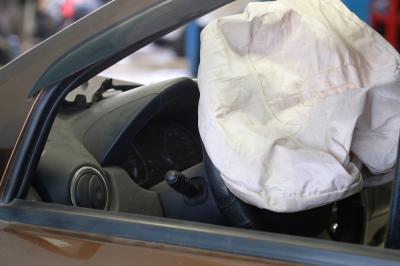 The Takata airbag recall was the largest auto-safety recall in United States history, with 41.8 million airbags involved. The recall was prompted by the fact that the airbags manufactured by the now-bankrupt Japanese company were raising major safety concerns due to deaths and injuries. In all, 13 deaths and nearly 200 injuries have been linked to the airbags.
In a collision, airbags are supposed to inflate and create a cushion for riders. According to NHTSA, the airbags in questions did not properly inflate. Instead, they exploded in such a way that they "tore apart its steel inflator housing and sprayed high-velocity metal shards at the victim."
19 different companies had cars containing these airbags. Some manufacturers include Tesla, Honda/Acura, Subaru, Mercedes-Benz, Mitsubishi, Mazda, Fiat Chrysler, and Toyota. However, the number of airbags replaced differs widely between manufacturers. Some, such as Tesla, Honda/Acura and Subaru have replaced 50% – 78% of the recalled parts. Others, like Mercedes-Benz, Mitsubishi, and Mazda have repaired only about 25%.
One factor in the ability of manufacturers to replace these dangerous airbags is that some consumers have not responded to their recall notices. While early in the recall process there was sometimes a shortage of replacement parts, this is no longer the case.
Vehicle owners are urged to check to see if their car is involved in this recall. Safercar.gov offers a Vehicle Identification Number (VIN) lookup site where owners can plug in their VIN and see what recalls may be outstanding. It's crucial for owners to respond to recall notices timely as delaying repairs only puts drivers, passengers, and other road travelers in danger.
If you're ready for a new car but your credit is keeping you from getting approved, CreditYes can help with our bad credit auto loan program! We can match you with a dealership in your area that will be with you every step of the way. Our service is fast and free. Fill out our secure online application and get behind the wheel of your next car today!